I was brought up not to judge a book by its cover. Okay, so this was very rarely related to actual books, but it has left me wondering how many people do judge a book by its cover?
I've read claims by readers that they don't judge a book by its cover, but is that even possible? Obviously, I'm not saying that someone reads a great story, then decides it is rubbish because they didn't like the front cover. What I'm interested in is how many of you have clicked on a link to a book based on being attracted by the cover, or have decided not to click on the link because the cover wasn't appealing?
I've always been a very visual person. I have a photographic memory, love crafting, decorating, and generally rearranging the garden until I'm satisfied with the colour mix and position of plants and flowers. So I have to admit that I do have a weakness for pretty book covers. If I fall in love with a cover, I'm often tempted to buy the paperback instead of the Kindle version, just so I can have it on my bookshelf and look at it longingly. Although I probably don't do this consciously, I suspect I'm also guilty of not buying a paperback, as I wasn't too keen on the cover. Naughty, I know, but I'm only human.
How important is the front cover to you?
If you're like me and love a good cover, what is your idea of a perfect front cover?
I would love to know some of your favourite covers for books you read in 2015.
On that note, here are my Five Favourite Front Covers read in 2015.
I've placed my star rating next to the titles. The rating is for the story not the cover, but as you can see, I didn't do too bad when judging a book by its cover, as there are some great reads below that I may not have read if I hadn't been lured in by their beautiful covers.
The Secret Life of Winnie Cox: Slavery, forbidden love and tragedy, by Sharon Maas (5 stars)
This is absolutely a book I clicked on based on its cover. I find the cover very emotive, and just knew I would love the story within.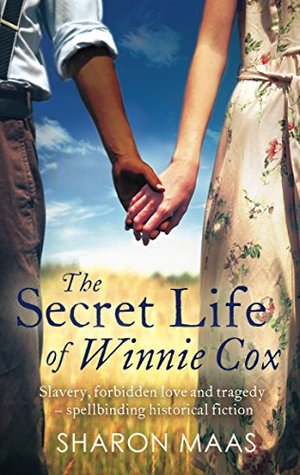 The Thing about Jellyfish, by Ali Benjamin (5 stars)
I find this cute and quirky, and love the way the jellyfish looks like a kite or spaceship.
A Sister's Promise, by Renita D'Silva (5 stars)
I love the colour combination and depth on this one. The colour of the title and the background colours remind me of the colours of felt tips I would have chosen for colouring in pictures as a child. I loved colouring in, and was very particular about my colour combinations.
The Summer of Secrets, by Sarah Jasmon (4 stars)
I remember discussing this front cover with the author when the cover was first revealed. It is very nostalgic for me, as it reminds me of my summers as a young teenager running through the farmers' fields with my childhood friends where I grew up. I love the colours too.
The Readers of Broken Wheel Recommend, by Katarina Bivald (3 stars)
Very simple. I love the curly font, the blue wooden background and the little pile of books. It makes me think of reading outside in summer.