Here are my Top Ten Books read in 2015. I've put them in alphabetical order, as it was hard enough choosing my top 10 from a list of 30 books I had given 5 stars to last year. I would be here forever trying to order the remaining 10, so alphabetical order it is.
A Sister's Promise by Renita D'Silva
My Review
A Sister's promise is a beautiful and emotional tale of the bond between two sisters.

I knew I was going to love this book as soon as I read the second paragraph of the prologue and realised I had a smile on my face:

"Touch-me-nots, their blooms, the soft, sugar-embroidered pink of a happy ending, shrink from the kiss of grumbling yellow bees. Butterflies coyly flutter their emerald-tipped silver wings as if dispersing benedictions from a benevolent god. High up in the coconut trees, the crows squabble and gossip."

This story is so beautifully descriptive, that the sights, scents and sounds came to life around me as I read it. The colours in my mind were so vivid, and I can still smell the rich aroma of spices. Renita D'Silva certainly has a talent for using words in a truly beautiful way.

The structure of this story flows really well, moving back and forth between the past and present. All chapter titles make it clear who the chapter is about, so there is no confusion. I loved the way part of the story is told through letters.

This is one of those stories that really digs deep at our human emotions. It covers love, loss, grief, jealousy, anger, betrayal, forgiveness, compassion and hope.

I really don't want to give too much detail about the story, so all I'll say is that if you enjoy stories about human determination through tough times and the bond between family members, then this is definitely a book for you.

Renita D'Silva's Facebook Author Page
Behind Closed Doors, by B.A. Paris
My Review

I finished Behind Closed Doors about half an hour ago, and my heart still feels like it's racing, probably not helped by me forgetting to breathe throughout the majority of the book. I found myself wishing I could read faster, just so I had a chance to catch my breath. Make sure you read this with a glass of wine or a box of chocolates, as they may save your life by distracting you from the story long enough to remind you oxygen is an essential part of survival.
This book will capture your mind and keep your heart prisoner until the very last page!
My heart was pounding from stress. My feet twitched from anticipation and sheer frustration. I experienced a heightened level of anxiety throughout the whole of this book. The last few lines of this story sent shivers down my spine and I had tears in my eyes as I sat staring at the very last page.
This book should come with a free oxygen mask, beta-blockers and a box of tissues.
If you thrive on books that leave you feeling trapped, isolated and with no one to turn to, then this is definitely the book for you.
Elizabeth is Missing, by Emma Healey
My Review
What a beautifully, touching, endearing and heartbreaking story.

Prepare to very quickly feel love and an intense desire to look after the main character, Maud, a woman in her eighties, suffering from dementia.

You may also find you want to repeatedly scream at the book every time Maud desperately tries to get someone, anyone to listen to her claims that her friend Elizabeth is missing. Experience the frustration building to almost bursting point as the book progresses. Please, someone listen to her!

Not only are we faced with the concept of where on earth is Elizabeth, but we are also taken back in time to the 1940s, while Maud was growing up, and allowed to delve into the mystery of the disappearance of her sister.

The past and present come together wonderfully at the end of this book.

This story made me feel affection, frustration, curiosity, and there was even a tear or two near the end.

This is an emotional and intense story, that I feel will stay with me for a while. I couldn't help but giggle at all my little scribbled on pieces of paper, when I came to my desk this morning, and suspect they will remind me of Maud for some time to come.

I recommend this to anyone who enjoys a good mystery with emotion and depth.
Lessons from Ducks, by Tammy Robinson
My Review
Lessons from Ducks has to be the cutest sad story I've ever read.

I adored this story from start to finish and actually feel quite sad that it had to end. I'm already missing my daily encounter with the ducks and their "QUACKS".

This is a heartbreaking tale of a woman going through various stages of grief, and not dealing with it very well. I felt I connected with Anna, probably because of her love of animals, gardening and walking.

Although it was sad experiencing Anna's grief and loneliness, there was another side to this book that was so happy and hilarious it had me laughing out loud on many occasions. There is something special about animals. No matter what you're going through, they have a way of melting your heart and somehow giving you hope that things are going to be all right.

I loved the characters of Matt and his 8-year-old son, Oscar too. In fact, some of Oscar's comments had me giggling away. He seemed more grown up than the adults at times. I loved the way the friendship developed between Anna, Matt, Oscar and of course, the ducks.

My heart ached, I laughed, and I cried with both sadness and happiness throughout this beautiful and touching tale of grief and the magical ability of animals to heal those humans around them.

If you aren't left with the intense urge to adopt a duck once you have finished this, then I think we can safely assume you're not an animal person in any way whatsoever.

I highly recommend this to anyone with a heart, as it is a wonderful read, written in a visually descriptive, sometimes very emotional, and often witty way.
Tammy Robinson's Facebook Author Page
No Kiss Goodbye, by Janelle Harris
My Review
Wow!

Wow! Oops, have I already said that?

This book has completely blown me away. It took a few days to read, as I had very little available time for reading, until this morning, when I read the entire second half in one sitting, as I couldn't put this down. I finished this book a few hours ago, but I've yet to come down from the experience.

I really don't want to say too much about the plot at all, as it is so good, I don't want to give anything away. However, to give you an idea of what it is about, the main focus of this story is on a wife and mother who has been injured in a car accident. She is struggling with her memory, which has a huge impact on her and those around her.

No Kiss Goodbye is an incredibly well plotted psychological suspense thriller, and you will not know who to trust. I'm still feeling rather shell shocked by the whole experience. I feel like this book put me through a lot of emotions, from curiosity, confusion, and anticipation to sheer frustration at times. Oh, and you may need some tissues, as there are some rather emotional parts too.

I highly recommend this to anyone who enjoys reading. Fans of psychological thrillers and suspense novels will love this. Even if you've never read a psychological or suspense novel before, this is definitely worth a go. It's not scary or violent in a horror or dark thriller kind of way, but it is very psychological and will have your mind spinning so much you'll feel dizzy by the time you reach the end.

I cannot recommend this enough – READ THIS BOOK!
Janelle's Facebook Author Page
Normal, by Graeme Cameron
My Review
Firstly, and most importantly, everyone should read this book right now!

Even if it's not normally your genre of choice, you must read this book, so that you have experienced it too. This is definitely one of my favourite books of the year so far. It's bloody marvellous!

It's going to be so hard to review this book, as I really don't want to give much away at all. I'm not even really sure how to describe it. It's a psychological suspense crime thriller with dark humour and a little extra 'totally messed up' squeezed in there too.

You will spend the pages of this story in the mind of a serial killer, and what's worse, you'll probably really enjoy it. I feel like I know the killer so well, yet I have no idea what his name is. Not knowing his name feels so strange. How can I feel I know someone so intimately, yet not know his name.

There is only one serial killer I have ever really liked, and that's Dexter Morgan, and he's not even a really bad serial killer, as he focuses on bad people he believes deserve to die. This killer however, is not quite so ethical in his selection of victims, and you'll get to know all about that once you start reading this.

This book gripped me from the start to the finish, with about the last 25% of the story being impossible to put down.

Buy this book, and live the life of a serial killer through the pages of this story. Expect to be left questioning your own moral views and sanity!

I have two questions to ask future readers:

1. Did you want him to get away with murder?
2. How does that make you feel, 'normal' or unhinged?
Graeme Cameron's Facebook Author Page
Real Monsters, by Liam Brown
My Review
On the face of it, Real Monsters is a book about war and terrorism. However, once you get into the story, it is clear that this isn't just about the goodies fighting the baddies, it takes you beyond the physical acts of violence, covering the physical and emotional impact war has on soldiers, and what it is like for family left at home while their loved ones are fighting in another country. It makes you question, what are we fighting for? Who are the real monsters in all of this? Does war create more monsters rather than rid the world of them?

Real Monsters is very emotive and thought provoking. Having given my heart and soul to this book, I was a bit of a wreck by the end, having the urge to cry hysterical tears. I managed to hold them back, but it wasn't easy. I'm not even sure exactly why it left me feeling so emotional, be it my own personal involvement with the military or my frustration at the world, but it did, and in my eyes, that's the sign of a well written novel.

I loved the format of this book, the way the story is told in the form of letters, alternating between a man and a woman writing to their son. I think this was very cleverly done, and covered two very different angles of the same situation.

The sections written by the soldier, were graphic and brutal, and some of the language, although most of which I can confirm is very much authentic, some readers may find offensive. I did question one particular word with my husband, which he says he's not personally heard being used during his time in the military, but with the exception of that one word, all other, shall we say, nicknames were familiar to my husband and myself, making the soldier's experiences feel even more real. These sections moved slower than those from Lorna's viewpoint, but that made sense, after all, how fast does time pass when you're on a military mission in the desert.

As both a female and someone who is married to a man who has been in the Royal Navy for 15 years, I found it really easy to relate to Lorna. After many years, having a husband going away for long period of time does get easier. I remember the days when he was away for two weeks feeling like forever, but nowadays a fortnight goes by in a flash. One thing that never gets easier are the goodbyes though, especially when he's going away for a few months. Those goodbyes are heart-breaking and I can feel my heart racing just thinking about it. I did have a giggle at Lorna going to the Military Spouses Meet-up club, as I was a member of the Navy Wives Club many years ago, and the wives there were also at least 2, more like 3 decades older than me.

Although, Lorna's story was the one I connected with the most, the soldier's letters are a constant reminder that this is going on somewhere, right now. Turning a blind eye to it because you either don't approve of war or just don't wish to think about it, doesn't make it any less real for those involved. People are dying every day because we as humans haven't yet grasped how to get on with each other.

You can choose to stick your head in the sand, or you can read books like this that make you think about a very real situation that is going on now. Then you could pass the book onto someone else, and have a conversation about it, and perhaps one day when enough of us talk about this kind of thing, we might come up with a solution to rid our world of hatred and violence without the use of further hatred and violence. What a wonderful world that would be.
Liam Brown's Facebook Author Page
Swerve, by Vicki Pettersson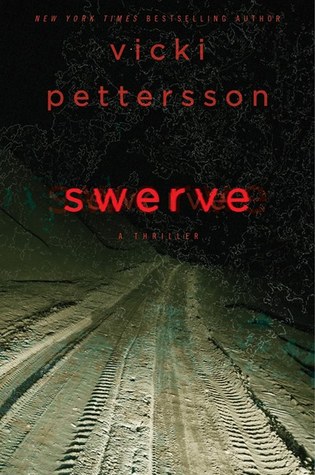 My Review
Wow!

Swerve is one of the best thrillers I have read, when it comes to the terrifying thrill of a book.

Prepare for it to take your breath away. I read it over three days and feel like I spent most of that time holding my breath while my heart raced. If I had read this for any longer, I think I would have been a nervous wreck!

What would you do if a psychotic stalker abducted the person you really loved while you popped to the toilet on a road trip? Choices are either go home unharmed but never see them alive again, or do everything psycho stalker instructs you to do via mobile phone. A truly terrifying scenario!

I would define Swerve as a fast-paced psychological thriller that is full of suspense, torment, action, and in some parts was quite brutal and horrific.

It has left me feeling emotionally drained, physically exhausted, injured, bruised and somewhat traumatised and shell-shocked.

What a ride! Brilliantly thrilling!

I highly recommend this to anyone who loves fast-paced thrillers.

The Secret Life of Winnie Cox, by Sharon Maas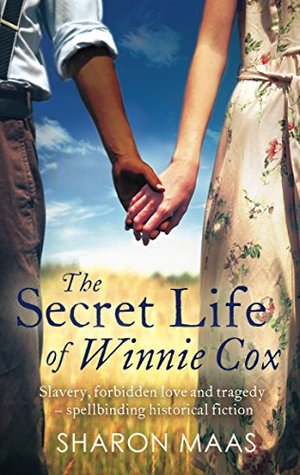 My Review
If I'm completely honest, I was slightly apprehensive about this book. I absolutely love the front cover. One of my favourite covers this year. It evoked so much emotion in me, that I feared the book itself would be a disappointment. I'm really pleased to announce that I also loved the beautifully written story behind the cover.

This is both a sad and beautiful tale of forbidden love. I felt Winnie's excitement and my heart ached for George in the way I imagined Winnie's did. The struggles they faced were heart-breaking, and made me realise how lucky we are in modern day Britain to have the freedom to love who we choose, regardless of class and colour.

This book made me cry at times. I read it with a heavy heart, as I was taken deep into a world that must have been awful for the African and Indian people. It is always sad to hear things about conditions like this on the news or in a history lesson, but a novel makes you become a part of that world. You are no longer just a witness to past events, but living and feeling those events each time you pick up that book.

It's funny how I didn't enjoy history at school, and chose to do geography instead of history for GCSE, yet I often gravitate towards historical fiction. I've probably learnt more about history through historical fiction than school or documentaries. Mind you, I'm not sure what that says about my historical knowledge. I feel this book has opened my eyes and heart to something I knew very little about before.

I had a hunger to know more, and the desire to delve deeper into the story, so would have enjoyed a little more focus on the story being told from the point of view of the workers. Perhaps I'll discover more in the future books.

I'm probably most like Winnie, and could definitely see my younger sisters in Yoyo, as they've always been more outgoing and confident than me. I did sometimes get irritated by Winnie's reckless behaviour, but I think that just acted as a reminder of her young age and lack of worldly wisdom.

I had mixed feeling about Winnie's mother. She grew on me as I read more of her diary, but I still have conflicting feelings about her not being there for her daughters.

Although I read this story with a heavy heart, I have been left with a feeling of hope. I thought it was a good ending despite it being the first in a trilogy. I had no idea it was part of a trilogy until the last page, so I was a little surprised, but also relieved, as I felt the story had more to give. I can't wait to read the second book next year.
Sharon Maas' Facebook Author Page
Twisted, by Andrew E. Kaufman
My Review
I think this may have just bumped its way up to the top of my favourite psychological thrillers list.

I'm not going to give away any of the plot, as that would spoil your experience. My advice is to read the main book description to see if it is something you fancy, and avoid reviews that give away details of the plot. You are best going into this with as little knowledge as possible.

Everyone should read this …if they think they are sane enough to handle it!

What I will say is that Twisted is the perfect title for this novel. It is very cleverly written and fast paced. The rest of my review describes how it made me feel, and I'd love to know how it made you feel too, so please feel free to post comments.

I was slow getting into Twisted; due to a busy week and not managing to keep my eyes open long enough at night. However, by the time I reached about half way, nothing was stopping me read this, so I read the second half much quicker. What just happened to me over the last 24 hours? I've been left feeling like a deer in headlights!

I feel like I've been through the washing machine with this one. A poor unsuspecting t-shirt, thrown in the washing machine, spun around and half drowned, only to be hung out and blown all over the place on a washing line. Then placed on someone and made to swim, cycle and run a triathlon, quite possibly in the wrong direction. Then the whole cycle begins again. That poor t-shirt, ha ha :-)

At one stage I actually started getting suspicious of the book, wondering if it was possible for the written word to actually change a reader's mental state permanently. It was as if the author had some secret way of infiltrating my brain with their book.

I feel shell-shocked, emotionally and mentally drained, as if my brain has turned into to mashed potato. I'm on the verge of wanting to cry, real hysterical tears, due to the mental trauma this book has put me through, and perhaps the relief that it's all over. I don't know, I feel fuzzy, disorientated and confused.

I think I need a hug. Someone hug me, please!

After 2 hours of trial and error, I've finally finished this blog, phew! I hope I've given you some ideas of what to read in 2016.